Touch is powerful, to say the least.
I am reminded daily of it's power, both at home and in my work.  When the sense of touch goes wrong, it can be debilitating.  We rely on our sense of touch to work with the rest of our senses and our body, for so many things we do and the way we interact in so many of our relationships every day.  Whether someone is "touchy feely" or not, the skin marks the point at which our bodies end and the rest of the world begins; it is the physical barrier OR connection to our inner selves and the outside world.
For some however, their sense of touch gives them mis-information about the world around them and because the sense of touch is "distorted" they physically feel bad, much of the time (think steel wool, prickly cactus, or ticklish feeling all day long).  When things feel this way for someone ongoing, they may learn that the world can be a scary or unknown place.  Tactile "distortions" can happen for a myriad of reasons, including abuse & neglect, sensory processing disorder, other diagnoses such as autism, damage to nerves from things like stroke, brain injuries, severe burns, or even diabetes.  Some people have the capacity to compensate for this distorted sense of touch and some do not, depending on the reason for and the type(s) of differences they experience.  That said, the type of touch distortion I see most commonly, in my work with children, is called tactile defensiveness.
Tactile defensiveness is not "injured nerves", "damaged skin", or injury of any kind (like one would find as a result of a stroke, a spinal cord injury, burns, or diabetes.  With tactile defensiveness, the brain misinterprets the messages sent by active tactile receptors.  In fact, the receptors may be "over-active" which causes "tactile defensiveness" or tactile hypersensitivity.  The following video does a MUCH better job than I can here of describing "tactile defensiveness" (leave it to interns with lots of energy and grades on the line to show up those of us working in the field):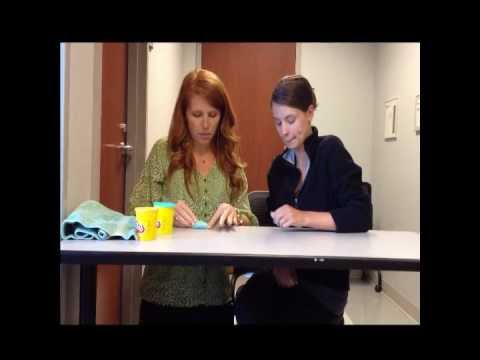 A recent resource I bought to share with parents is a book called, "I'll tell you Why…talking about Tactile Defensiveness." (Note: I am getting zero compensation for my endorsement of this product.  I simply love it). This book is an aesthetically beautiful presentation of photos, coupled with easy to understand words and prompted blank pages for children to color/draw/write about their own experience of touch.  This book offers encouragement, validation, and information that can lead to understanding, for kids and families who struggle with this extremely real, but frustrating, and sometimes debilitating condition, known as tactile defensiveness.
I am not only an OT, but I am the parent of a child who has struggled with tactile defensiveness at some level, since the day she was born (translation.,,many battles and meltdowns during dressing and still only being able to wear two brands of socks or none at all, specifically putting on shoes and socks at the exact time we are struggling to get things together and get out the door, major freak outs as a toddler that lasted the duration of our entire trip across town because of being buckled into the car seat, arguments over temperatures of foods and bathwater, limited snuggles because sitting too close to people makes her feel "sweaty", and upset -hers and mine- over hair brushing, face washing, hand washing etc. – or lack thereof).  I FEEL a parent's pain at the daily challenges of raising a child with tactile defensiveness.  (Sidebar, I consider myself lucky to have had that as one small piece of parenting to contend with, amidst a myriad of other potential challenges that so many parents have to face).  I raise my experience to highlight that tactile defensiveness can be one of those "hidden" challenges, that so many kids (and families) face, not obvious to outside observers, but such an integral part of that child and family's daily experience, and without support and information for how to address it, it can make family life, less than enjoyable and extremely, NOT what we want our lives to be (how's that for technical?).
For those parents raising a child with tactile defensiveness and the accompanying struggles that ensue, I encourage the watching of this video for information and the purchase of this book, for at least initiating conversation.  Resources are also included in the book for reference.  Occupational Therapists have strategies that can be useful for addressing tactile defensiveness and with the right interventions, support, and information, life can become a little MORE like we DO want it to be!  (save the steel wool for scrubbing dishes).